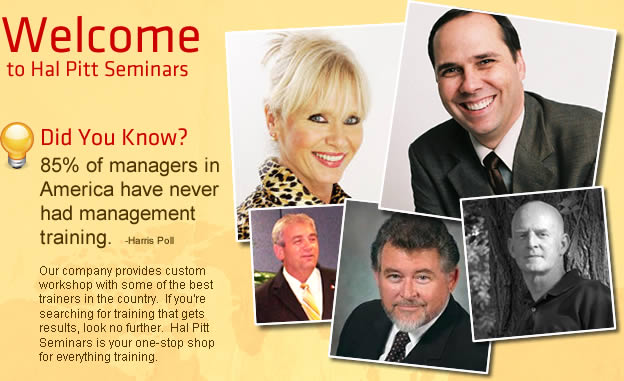 "These trainings are a turning point in my work life. I attended the first-time manager training, also with Hal Pitt as the facilitator, and my work performance immediately improved. At my performance evaluation, I earned "outstandings" in almost every area, got a thousand-dollar bonus, a seven thousand-dollar raise and a huge promotion. The class I took with Hal had a lot to do with my performance. THANK YOU."
- Amy Smith, Program Director
"This was the best seminar I've ever attended."
- Steve Block, President, Hilliard Enterprises, Inc.
"Hal did an excellent job. In my nine years as a nurse, this is the first seminar I've been to that held my total attention without getting drowsy throughout the program. My compliments."
- Jannia East
"Hal gave a very exciting as well as interesting workshop. There were times I needed to go to the bathroom but didnít because I was really into his training and didnít want to miss anything."
- Eric Shoup, Supervisor


American Pharmaceuticals
CNN
United States General Accounting Office
Delphi Delco Electronics
City of Thornton, Colorado
U.S. Army
U.S. Navy
U.S. Air Force
CGH Medical Center
Toyota Corporation
City of Aurora, Colorado
Sprint PCS
Mustang Engineering
B.F. Goodrich
City of Laramie, Wyoming
Hon-DahCasino and Resort
Collins Communication
Eden Industries, United Kingdom
City of Greenwood Village, Colorado
Wind River Casino
Jefferson County, Colorado
Arapahoe County, Colorado
Massapequa School District
Orange County Employees Association
St. Luke's Hospital
SAIC
Heritage Newspaper
Indiana Mills
Republic Paper Board
Kentucky Youth Services
Wells Fargo Bank
…and many more